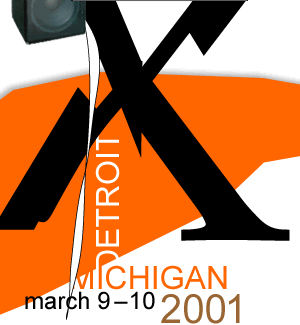 Mid by Midwest is a two-day, multi-venue music festival held in Detroit, Michigan.
From its conception, the purpose of this festival has been to raise awareness of Detroit's musical community while also giving something back to Southeast Michigan's community-at-large. Exactly half of this year's profits are being donated to HAVEN, a shelter for battered women which does extraordinary work in Southeast Michigan. The remainder is being offered back to the bands who are making this event a reality (although a number of MXMW's acts have already committed to donating their payments to HAVEN as well.)
The 2001 Mid by Midwest festival was an incredible two nights. Thanks to all who attended, all the performers, and all the area businesses and talented individuals who made the festival possible.
See y'all in 2002.
-----------------------
Final receipts - $8,369
COSTS $2,506
COSTS BREAKDOWN
$1,000 - 2 night "rental" of the Magic Stick
$250 to cover printing materials (for 1000 and 200 posters)
$650 - 2 nights sound at Alvin's
$136 - wristbands, mailings, supplies
$470 - pay for door people
51 bands were paid $57.97 each
The following bands and individuals waved their pay, adding it to our HAVEN donation: Junk Monkeys, Clone Defects, Lizzy Girl & the Gin Spins, Crypt Kicker 5, The Hillside Stranglers, Stroker Ace, They Come in Threes, Octopus, Wildbunch, DJ Lemmy Caution, Judah Johnson, The Unfriendlys, Terrence Parker, Taboo, Come Ons, Driftweed, Lulu (donating her pay for working the door)
Our final donation to HAVEN was $3,826.06!!! (Half remaining profits - 2906.50 + Band Donations = $3826.06)
Presented by: The Gold Dollar Bar & Off Woodward Productions (web registration, web space, nagging, whining), A + R Design (web design services), Symmetry Design (print ad layouts), Living Endustry Productions, Octane Grandé Productions
The following bands attempted to appear at MXMW but could not due to prior obligations: the Von Bondies, Slumber Party, the White Stripes, mHz. The support and encouragement of these bands is deeply appreciated.
See you next year!